The Health Visiting Unit in the department of Community Medicine propagates health      promotion and disease prevention through Health Education, Counselling, Community outreaches, Immunization services, School health services and Home visitation of the patients and care-givers for continuity of care.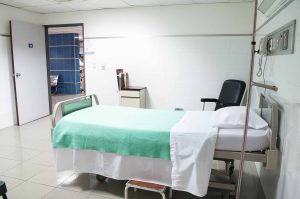 Details of these services rendered by the unit are stated below;
Health assessment of patient/clients;

History taking.
Nursing diagnosis.
Health teaching/education and counselling.
Follow up visits in the wards and clinics.
Case referrals.

Health education/teaching on;

Definition and explanation of various medical conditions such as;

Diabetes mellitus
Hypertension
Anemia
HIV/AIDS
Sexually transmitted diseases
Malignancies

Causes
Predisposing factors
Signs and symptoms
Prevention of infections
Prevention of complications
Adequate nutrition and hydration
Importance of exercise
Importance of early detection and prompt treatment of illness
Drug side effects
Personal and environmental hygiene
Counselling sessions on;

Health Promotion
Healthy living
Behavioral change

Follow up visits
Advise on discharge
Importance of keeping to hospital appointment
Home visitation

Health teaching/education on;

Definition and explanations on various surgical conditions such as

Benign prostatic hypertrophy.
Bladder outlet obstruction.
Open heart surgeries.
Undescended testis
Cancer

Preoperative psychological care to patients and caregivers     .
Post-operative advice on;

Importance of exercise.
Adequate nutrition.
Prevention of infection.
Prevention of complication.
Catheter care.
Drug compliance.
Personal and environmental hygiene.

Counseling sessions on;

Behavioral change.
Change of job.
Change of accommodation.
Health promotion.

Follow up visits
Advise on discharge
Importance of keeping to hospital appointments
Others

Health education and explanations on;

Various gynaecological and obstetrics conditions such as

Malaria in Pregnancy
Anaemia in pregnancy
Infertility
Pre-eclampsia
HIV/AIDS in pregnancy
Ectopic pregnancy.

Causes of gynecological conditions
Causes of obstetrics conditions
Signs and symptoms
Predisposing factors
Complications
Management of conditions like;
Prevention
Family Planning
Infant and child care

Assessment of babies and children
Care of  newborns /infants
Infant feeding and weaning
Infant clothing
Prevention of childhood diseases/infections
Prevention of home accident
Immunizations
Other aspects of child care such as;

School health services
Home visitation
Supporting children with special needs
Other infant care

Immunization Services which includes;

All vaccine preventable diseases for both adults and children

Other services include;

Establishing and addressing key health needs such as;

Nutritional needs
Safety needs
Avoidance of violence
Sex education
Parenting skills
Coming to terms with illness such as;

Depression
Chronic illnesses

Coping with disability
Health promotion
Prevention of home accidents
Maintaining a ventilation system
Providing information on local services   like;

Mass campaign on immunization

Home Visitation where the following activities are carried out;

Home assessment and readjustment to suite patient/client condition
Health education
Counselling
Assessing wound healing and changes
Assessing other treatment at home
Referral services

Health outreach program and school health services where the following services are rendered;

Health education
Client assessment that involves the following;

History taking
Physical assessment
Temperature check
Pulse check
Respiration count
Blood pressure check
Blood glucose check

Counseling of clients on prevailing health conditions
Treatment of minor ailments
Referral of complex cases
Prevention of illness
Health promotion
Childhood immunization
Adult immunization
Environmental assessment
Disease surveillance
Case tracing
Screening and identification of defects

Other job description continues;

A  Health education and counseling on mental health as follows;

Understanding the signs and symptoms of mental illness from mild to severe forms of mental illnesses.

Mental problems viz;

Myths about mental illnesses
Common causes of mental illnesses

Predisposing factors
Precipitating factors
Maintaining factors

Types of mental illnesses
Mental health promotion activities viz;

Advantages of sleep
Stress management
How to live a healthy lifestyle
Early recognition of mental illnesses
Coping mechanisms like adaptive (positive) methods and maladaptive (negative) methods
Relaxation
Ventilation and its importance.
The unit in addition collaborates with WHO to carry out National Immunization plus days, contact tracing and disease surveillance for communicable and noncommunicable      diseases continually and during epidemics.
The staff disposition of the unit is as follows;
Mrs  Okelu F U                                  ADCH/Head HVU
Mrs  Solomon C C                             ADPHED
Mrs  Ezeala Adikaibe N P                 ADPHED
Mrs  Ikeme O C                                 CNO
Mrs  Agupusi  I N                               ACPHN
Mrs  Agadeze Nnenna                     ACPHN
Mrs  Madu N B                                  ACPHN
Mrs  Nweze J C                                 ACPH